The ZeroPlus Loan.
Zero Origination Fee
Zero Processing Fee
Zero Underwriting Fee
Low Rates
$1000 closing credit (Loan amount must be at least $150,000)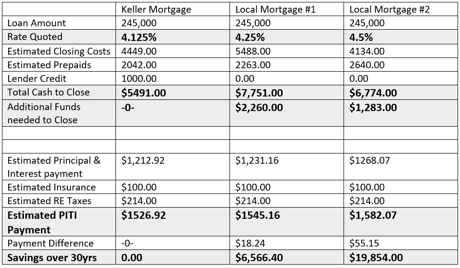 HOW IT WORKS
Keller Mortgage is a Nationwide Lender offering a Zero Plus Loan Program exclusively to our clients. Zero Plus means that they don't charge the traditional lender fees, like an Origination Fee, Processing Fee, Underwriting Fee, etc. And for loans over $150,000, they give you an additional $1,000! On average this is saving our clients $5,000. That's CASH they don't have to bring to closing!
How can they do this and stay in business? Keller Mortgage doesn't spend a dime on marketing so they pass that savings straight on to YOU, the customer, with competitive rates and no lender fees. They also order a Home Appraisal on day one of the contract, helping you close faster. And if you terminate that contract, you don't pay them back for that appraisal.
Would you like to skip the fees, save thousands and close faster on your next home?! Contact Us today to get moving!! Want to skip the line, and just apply via the app? Get the App Now!
*Certain officers, directors and owners of Keller Williams Realty, Inc. have ownership interest in Keller Mortgage. Keller Mortgage, LLC is an affiliate of Keller Williams Realty, Inc. This is not a commitment to lend. Buyers are advised to obtain a Loan Estimate. Loans are based on credit and underwriting criteria. Not all borrowers will qualify. Keller Mortgage is a licensed trade name of Keller Mortgage, LLC, 4725 Lakehurst Ct., Suite 400 Dublin, OH 43016. NMLS No. 140234. TX SML Registration, 209 Brins Way, Dripping Springs, TX 78620. 1888-766-2678 . See www.kellermortgage.comfor full details and disclosures. Equal Housing Lender. Equal housing lender NMLS number 140234